Call for papers: Triage system in emergency medicine
Edited by
Axel R. Heller, University Hospital Augsburg, Germany
Arian Zaboli, Hospital of Merano, Italy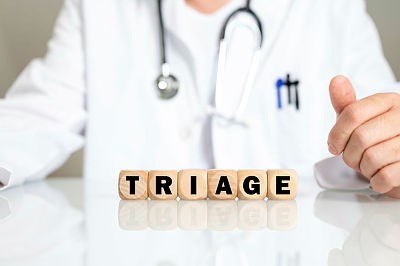 Triage is critical important for emergency medicine. It refers to prioritize medical care to patients according to the severity of their condition. Besides, the medical resource is not always sufficient in an emergency department due to the crowding and staff burnout at times.
A good triage system should help emergency departments to organize and manage the flow of patients, which is becoming more and more important as the number of patients continues to increase. In addition, a good triage system must be able to distinguish patients who need rapid assessment and management from patients who can wait safely.
A number of such systems have been developed and applied in use in clinics over the years. In order to summarize the development of triage systems in recent years, we have decided to launch a BMC Emergency Medicine collection "Triage system in emergency medicine".
We invite submissions from all aspects of this developing field including, but not limited to:
- New triage scale,
- Applications of triage systems in clinics,
- AI in triage system,
- Strategies for improving the triage system stratification,
- ongoing crowding of emergency department and solution, etc.
- development and evaluation of triage systems for mass casualty incidents.
The collection is now open for submissions until 1st June 2023.
Please submit directly to BMC Emergency Medicine stating in your cover letter that it is for the "Triage systems in emergency medicine" collection. Alternatively, you can email your pre-submission queries to the Editor of BMC Emergency Medicine at guangde.tu@biomedcentral.com.
Our guest editors:
Axel R. Heller
Axel Heller is Chair of the Dept. of Anesthesiology and Intensive Care Medicine of the University Hospital in Augsburg. Previously he held a professorship in Emergency Medicine and was Head of the emergency department in the University Center of Surgery in Dresden. Since the beginning of his medical career, emergency and disaster medicine have been essential components of patient care, research and teaching.
Starting as a paramedic, he later became an emergency physician in air rescue and medical director of the 24. Medical Taskforce in the federal disaster control. He is a consultant at the Federal Office of Civil Protection and Disaster Assistance. During the Corona pandemic, he was responsible for patient coordination over 16 hospitals in Augsburg and the surrounding area. He is organized in several professional associations and involved in the development of numerous guidelines. His research interests include triage systems in emergency medicine.
Arian Zaboli
Dr. Arian Zaboli is a clinical nurse specialist working in emergency department, Hospital of Merano, Italy. After graduating in nursing, he completed a master's degree in emergency medicine. He is currently studying the topic of triage and its development, both by studying well-known triage systems and by collaborating in the development of new triage systems. He has currently published more than 30 articles in leading peer-reviewed journals in the field of emergency medicine.