Debate
Open Access
Open Peer Review
This article has Open Peer Review reports available.
Emergency department triage: an ethical analysis
BMC Emergency Medicine
2011
11:16
Received: 23 November 2010
Accepted: 7 October 2011
Published: 7 October 2011
Abstract
Background
Emergency departments across the globe follow a triage system in order to cope with overcrowding. The intention behind triage is to improve the emergency care and to prioritize cases in terms of clinical urgency.
Discussion
In emergency department triage, medical care might lead to adverse consequences like delay in providing care, compromise in privacy and confidentiality, poor physician-patient communication, failing to provide the necessary care altogether, or even having to decide whose life to save when not everyone can be saved. These consequences challenge the ethical quality of emergency care. This article provides an ethical analysis of "routine" emergency department triage. The four principles of biomedical ethics - viz. respect for autonomy, beneficence, nonmaleficence and justice provide the starting point and help us to identify the ethical challenges of emergency department triage. However, they do not offer a comprehensive ethical view. To address the ethical issues of emergency department triage from a more comprehensive ethical view, the care ethics perspective offers additional insights.
Summary
We integrate the results from the analysis using four principles of biomedical ethics into care ethics perspective on triage and propose an integrated clinically and ethically based framework of emergency department triage planning, as seen from a comprehensive ethics perspective that incorporates both the principles-based and care-oriented approach.
Keywords
Emergency DepartmentEmergency CareSevere Acute Respiratory SyndromeEthical AnalysisTriage System
Background
Emergency care is one of the most sensitive areas of health care. This sensitivity is commonly based on a combination of factors such as urgency and crowding [1]. Urgency of care results from a combination of physical and psychological distress, which appears in all emergency situations in which a sudden, unexpected, agonizing and at times life threatening condition leads a patient to the emergency department (ED).
The Australasian College for Emergency Medicine (ACEM) defines ED overcrowding as the situation where ED function is impeded primarily because the number of patients waiting to be seen, undergoing assessment and treatment, or waiting to leave exceeds the physical and/or staffing capacity of the ED [2]. ED overcrowding is a common scenario across the globe [1, 3] and resources like staff, space and equipment are limited. Patients often have to wait for a long time before being seen by a doctor and even longer before being transferred to a hospital bed [3]. The result is not merely inconvenience but a degradation of the entire care experience - quality of care is compromised, the patient's safety may be endangered, staff morale is impaired and the cost of care increases.
The inappropriate use and/or misuse of ED services is one of the common problems leading to overcrowding [4]. Sociodemographic characteristics are predictors of nonurgent use of emergency department [5]. Public orientation [4], strengthening and expanding primary care services can be a solution to the problem [6, 7].
When existing needs cannot be met by the available resources a system is needed to cope with the situation and many hospitals use a triage system in order to do this [8]. The aim of triage is to improve the quality of emergency care and prioritize cases according to the right terms [9].
The term "triage" is derived from the French word trier (to sort) which was originally used to describe sorting of the agricultural products. Today, "triage" is almost exclusively used in specific health care contexts [9].
Iserson and Moskop [
9
] describe the requirement of three conditions for triage in emergency practice:
1.

At least modest scarcity of resources exists.

2.

A health care worker (often called a "triage officer") assesses each patient's medical needs based on a brief examination.

3.

The triage officer uses an established system or plan, usually based on an algorithm or a set of criteria to determine a specific treatment or treatment priority for each patient.
From the perspective of ethical theories, triage is commonly seen as a classic example of distributive justice, which addresses the question of how benefits and burdens should be distributed within a population [10]. It is traditionally used within the ethical literature as an example of a pressing ethical conflict between the utilitarian principle to do the greatest good for the greatest number, [11] the principle of equal respect for all, the principle of nonmaleficence, and the principle of non-abandonment [12].
The fundamental point of triage is the following: not everyone who needs a particular form of health care, such as medicine, therapy, surgery, transplantation, intensive care bed, can gain immediate access to it. Triage systems are designed to assist allocation decisions in this regard. These decisions are more difficult when a condition is life-threatening and the scarce resource potentially life-saving. In life threatening conditions, the question can become: "Who shall live when not everyone can live?" The crux of the matter is the seeming inappropriateness of abstract allocation principles at the level of face-to-face relationships. The general utilitarian concerns of the system, which in the context of scarcity comes down to calculating and choosing between patients on the basis of abstract reasoning (focused on "statistical lives", realizing the best results out of an abstract cost-benefit analysis applied to patients as abstract cases), seems to collide with the Hippocratic duty of doing as much as you can for the patients who need care (focused on "identifiable lives", that is, on the patients as particular persons with whom one stands in a face-to-face care relationship) [12].
Ethical issues are hardly considered in emergency department setting. A study by Anderson-Shaw et al has suggested that patients hospitalized through ED often present with ethical dilemmas significantly impacting their inpatient care and overall health outcomes [13]. There is need of more research regarding the proactive use of ethics consultation in ED.
Within existing medical literature, the controversies relating to the ethics of triage in medical practices predominantly date back to the early eighties [14]. Recent studies focus on the contemporary concept of triage [9], underlying values and preferences [10], evolution of systems [15] and their variation according to traditions, cultures, social context and religious beliefs [16], update on guidelines [17] and position statements [18].
Currently, the existing literature on triage is deficient in two ways. Either there is a predominant focus, from a medical perspective, on the practical elements of triage and on clinical-based guidelines. Or there is a focus, from an ethical perspective, on the domain of distributive justice, with its conflicting principles, as such remaining on the abstract level of reasoning. The aim of this paper is to bring the two strands together.
The central question is the following: how can triage systems in emergency care be ethically assessed, so as to realize optimal use of scarce resources in an ethically just way without remaining on the abstract level, that is by taking the effect of triage on the individual patients and caregivers into account?
In order to do this, we will focus on ED triage. We aim at complementing existing literature on ED triage with an ethical framework that can help ED management teams in planning and executing triage for the care of emergency patients in the daily practice.
Triage in Health Care
Common contexts of triage in contemporary health care practices are pre-hospital care [
19
], emergency care, intensive care (who to admit), waiting lists (e.g. for lifesaving treatments such as organ transplants) and battlefield situations [
20
]. In case of emergencies and disasters, three stages of triage have emerged in modern healthcare systems [
15
].
1.

First, pre-hospital triage in order to dispatch ambulance and pre-hospital care resources.

2.

Second, triage at the scene by the first clinician attending the patient.

3.

Third, triage on arrival at the hospital ED.
During the last decade, the issue of pandemic triage has entered the discussion of triage [21–23]. The emerging infectious disease like Severe Acute Respiratory Syndrome (SARS) and Pandemic Influenza have alerted emergency departments to the need for contingency plans. This applies to triage for intensive care services as well. In such public health emergencies, the managerial emphasis shifts from the individual to the population, from "individual" to "statistical" lives, trying to realize a maximal outcome out of the available resources [24]. Nevertheless, emergency staff continues to be confronted, on a face-to-face level, with the care for individual patients in need, whom they might not be able to help.
Emergency Department Triage
Triage is a system of clinical risk management employed in emergency departments worldwide to manage patient flow safely when clinical needs exceed capacity. It promulgates a system that delivers a teachable, auditable method of assigning clinical priority in emergency settings [17].
In contemporary emergency care, triage is regarded as an essential function not only during massive influx of patients as in disasters, epidemics and pandemics but also in regular emergency care departments. The burden in emergency care is increasing and so are the expectations of patients [1]. In hospitals that apply triage for regular emergency care, triage is the first point of contact with the ED. Assessment by the triage officers involves a combination of the chief complaint of the patient, general appearance and at times, recording of vital signs [25].
Guidelines for Emergency Department Triage
Triage guidelines score emergency patients into several categories and relate it to the maximum waiting time based on specific criteria of clinical urgency. Initial versions of triage guidelines had three levels of categorization mostly termed as emergent, urgent and non-urgent [
25
]. Studies have revealed that five-level triage systems are more effective, valid and reliable [
25
,
26
]. In contemporary emergency care, most triage systems sort out patients into five categories or levels (Table
1
) including the time within which the patient should be seen by the emergency care provider [
27
].
Table 1
Five-level Triage Systems
| System | Countries | Levels | Patient should be seen by provider within |
| --- | --- | --- | --- |
| Australasian Triage Scale (ATS) | Australia | 1 - Resuscitation | Level 1 - 0 minutes |
| | New Zealand | 2 - Emergency | Level 2 - 10 minutes |
| | | 3 - Urgent | Level 3 - 30 minutes |
| | | 4 - Semi-urgent | Level 4 - 60 minutes |
| | | 5 - Nonurgent | Level 5 - 120 minutes |
| Manchester | England | 1 - Immediate (red) | Level 1 - 0 minutes |
| | Scotland | 2 - Very urgent (orange) | Level 2 - 10 minutes |
| | | 3 - Urgent (yellow) | Level 3 - 60 minutes |
| | | 4 - Standard (green) | Level 4 - 120 minutes |
| | | 5 - Nonurgent (blue) | Level 5 - 240 minutes |
| Canadian Triage and Acuity Scale(CTAS) | Canada | 1 - Resuscitation | Level 1 - 0 minutes |
| | | 2 - Emergent | Level 2 - 15 minutes |
| | | 3 - Urgent | Level 3 - 30 minutes |
| | | 4 - Less urgent | Level 4 - 60 minutes |
| | | 5 - Nonurgent | Level 5 - 120 minutes |
The most commonly used guidelines for ED triage on the international literature are
The Manchester Triage Score
[
17
,
28
,
29
],
The Canadian Triage and Acuity Scale
[
28
–
31
],
The Australasian Triage Scale
[
28
,
32
] and
Emergency severity Index
[
27
,
29
]. In ESI, there are five-levels of these triage score (see Figure
1
). In addition national and institutional guidelines are also developed and used in practice [
15
,
33
].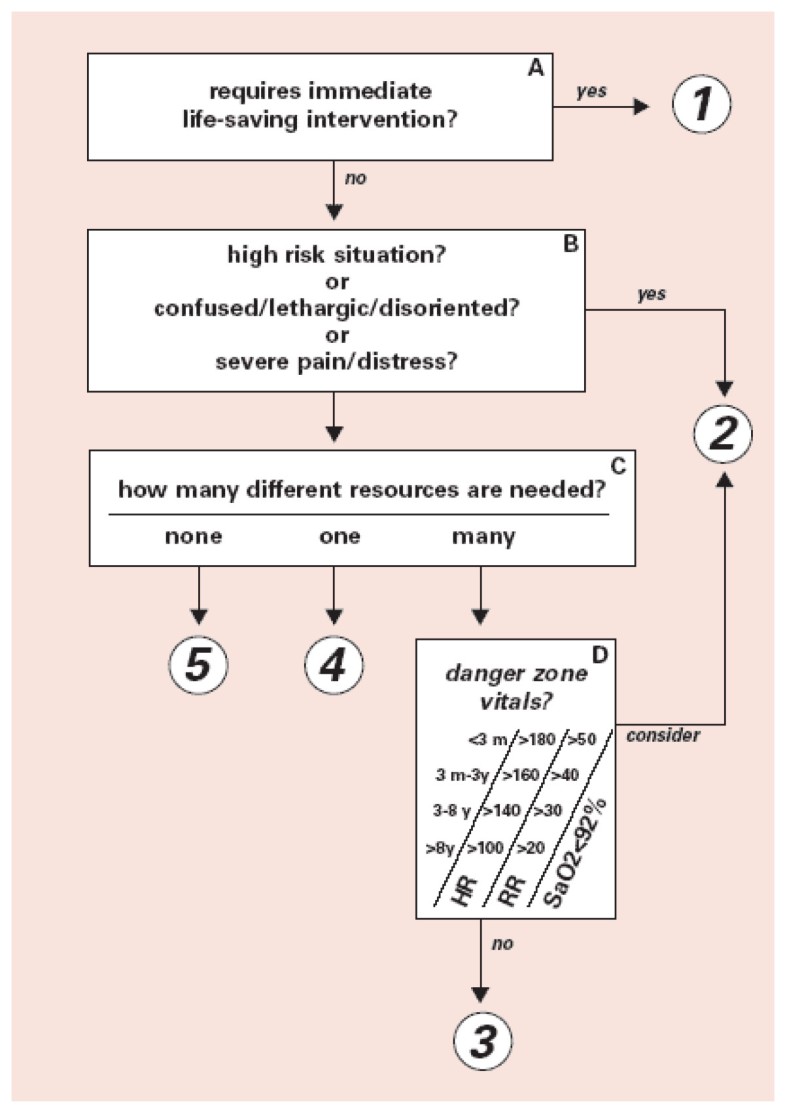 When reflecting on the question whether these triage systems say anything about how to sort a patient among one of the five levels, we can apply The Manchester Triage Score [17] as an example. This triage system selects patients with the highest priority first and works without making any assumptions about diagnosis. In this method the actual priority is determined by using flow charts which utilizes 'discriminators' at each level of priority. Discriminators are factors (general or specific) that discriminate between patients to be allocated to one of the five clinical priorities. There are six general discriminators for triage: life threat, haemorrhage, pain, conscious level, temperature and acuteness. These have to be practiced at each level of priority and it is essential for the triage officer to understand the triage method. For example: Pain can be severe pain, moderate pain and recent pain. Specific discriminators are applicable to individual presentations or to small groups of presentations, which tend to relate to key features of particular conditions. For example: cardiac pain or pleuritic pain. Thus, the specific criteria of triage are based on clinical urgency.
Though terminology of categorization differs slightly between the various guidelines, their practical meaning is more or less the same. Triage is a brief encounter between triage officer and patient, which takes two to four minutes [34]. Subsequently, the patient is labeled with a colored tag. Depending on this tag, the patients are sent to specified areas where they will be consulted by the physicians. While undergoing treatment, the patient may improve or worsen and so may need to be re-triaged and shifted to appropriate area for further treatment. Thus, triage is a continuous process in which clinical characteristics need to be checked regularly to ensure that the priority remains correct.
The Canadian Triage and Acuity Scale (CTAS) consist of separate guidelines for adult [
30
] and child [
31
] patients. In The Manchester Triage Score [
17
], the level of consciousness in adult and children is considered separately. A guideline, entitled SALT (sort, assess, life-saving interventions, treatment and/or transport) triage, was developed in 2008; which incorporates aspects from all of the existing triage systems (see Figure
2
) to create a single overarching guide for unifying the mass casualty triage process across the United States [
35
]. START triage utilises the use of colours green, yellow, red and black to categorise the patients (see Figure
3
). More importantly, separate guidelines have been developed for potential pandemics like influenza [
22
,
23
] and special situations like the use of weapons of mass destruction and bioterrorism [
36
]. During sudden emergence of '2009 H1N1 influenza', web-based self-triage named Strategy for Off-Site Rapid Triage (SORT) was disseminated by H1N1 Response Centre to reduce a potential surge of health system utilization without denying needed care [
37
].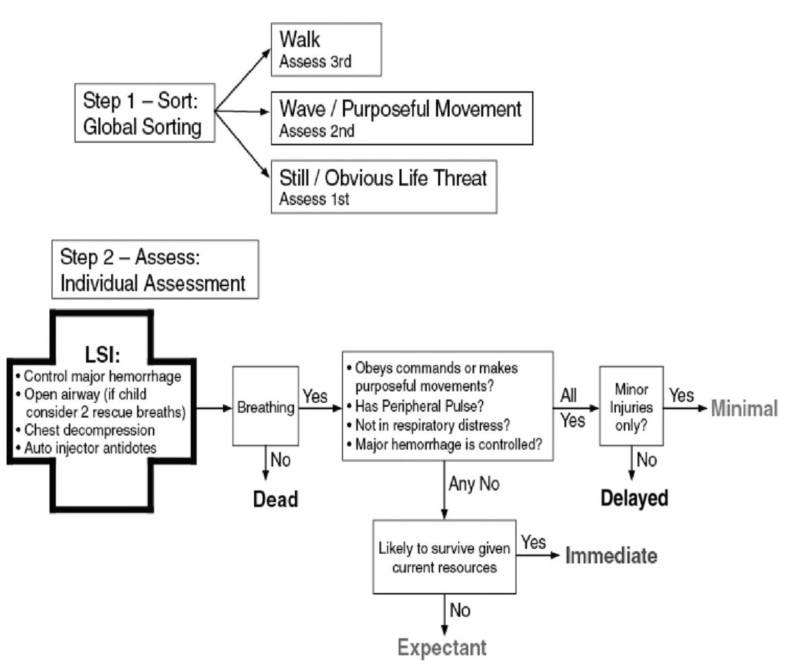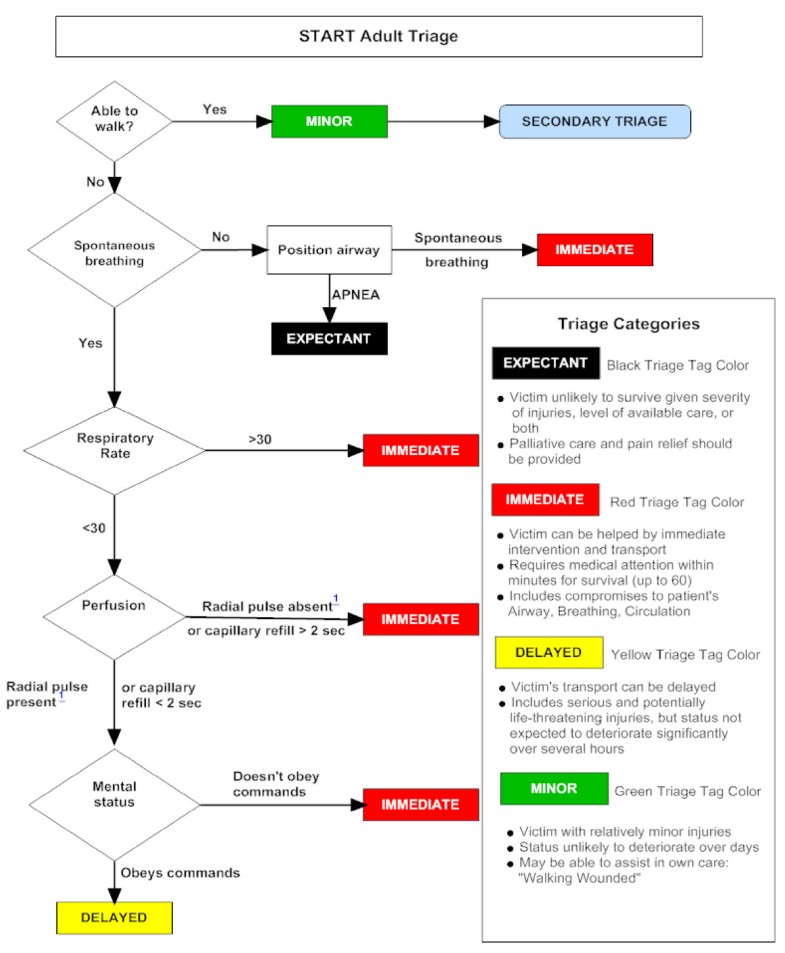 The Sacco Triage Method (initially known as resource-constrained triage method) is an evidence based outcome driven triage which considers the resources to maximize the expected survivors. Triage decisions are based on a simple age adjusted physiological score (i.e. respiratory rate, pulse rate and best motor response) that is computed routinely on every trauma patient and are correlated to survival probability [38].
Discussion
ED triage introduces several ethical questions, which have received less attention in the general literature on triage. Below, we will carry out an ethical analysis by firstly applying the four principles of biomedical ethics developed by Beauchamp and Childress [9]. Then, we will look at the ethical aspects of ED triage from the care ethics perspective, an influential ethical theory [39–42] that evolved out of the works of Carol Gilligan [43] and Joan Tronto [44].
The Principle-based Approach
The Care Ethics Perspective
Care ethics is an ethical theory that evolved out of the Kohlberg-Gilligan debate on moral psychology and from the work done by social scientists, such as Joan Tronto in the USA and Selma Sevenhuijsen in the Netherlands [43, 44, 67]. According to this theory, care has important ethical value, not only within our own particular daily lives, but also within the societal context of education and social policy. As for health care ethics, the care perspective has until now been primarily applied in the fields of nursing [68, 69], care for elderly people [70], mental health care [71], prenatal diagnosis and abortion [72, 73], care for people with disabilities [74, 75] and care for people suffering from dementia [76]. As such, the care ethics perspective has become a very influential viewpoint within ethical theory [39].
In this paper, we will apply the care ethics perspective to the issue of ED triage because we are convinced that the care ethics perspective offers important ethical insights into the dynamic character of triage within the setting of emergency care. By focusing on the dynamic aspects of delivering acute medical care, it provides an important addition to the predominantly fragmented principle-based approach. Here, we opt for an ethical analysis according to the four dimensions of care, as developed by Joan Tronto [44].
Four Dimensions of Care
In her pioneering book Moral Boundaries (1993), Joan Tronto distinguishes four dimensions of care, each comprising a corresponding ethical attitude [44, 77]. The four dimensions of care can help us to understand the ethical meaning of ED triage as a fundamental part of the entire care process.
The first dimension, 'caring about', is the starting point of care and refers to being concerned about the condition of a person and paying attention to the vulnerability of this person confronted with. The corresponding ethical attitude is attentiveness and refers to the actual recognition of a need that should be cared about.
In triage, the ethical attitude of attentiveness to the needs of people, respecting their autonomy, even within the brief examination by the triage officer, is the starting point of the process and is important for ensuring that people are not being neglected. This is also a continuous attitude, for a patient may need re-triaging due to worsening or improvement of condition, or may suffer from psychological distress, due to long waiting times and lack of information.
The second dimension is 'taking care of'. It refers to assuming the responsibility for providing the necessary care. The challenge to improve the patient's condition is recognised. Here, responsibility is the corresponding ethical attitude.
The triage officer takes up the responsibility to improve the patient's condition as much as possible. This means that he tries to make the right decisions in order to guarantee that the patient will be cared for as well as possible, given the circumstances of scarcity of resources.
'Actual care giving' is the third dimension of care and refers to the effective and adequate way to meet the patient's needs. This dimension of care requires the necessary competence to provide the actual care in a professional way.
By sorting patients competently, triage functions as a necessary part of good-quality emergency care. From a care ethics perspective, competent triage not only comprises the medical competence of sorting patients according to criteria of clinical urgency, but also includes attention to proper communication and respect for the patient's privacy, thus avoiding psychological harm.
Good care requires feedback and verification that the patient's needs are actually being met. This brings us to the final dimension of care, namely that of 'care receiving' and the corresponding attitude of responsiveness, which refers to the response of the patient to the given care.
The dimension of care receiving is mostly lacking in the practice of triage and at times leads to conflict. Nevertheless, checking to see how the given care is being received is very important since the decisions made by the triage officer can have potential negative impact on patient's condition (e.g. patient's safety may be endangered or their condition may deteriorate) and on their experiences (distress, fear, anger). The result is not merely inconvenience but rather a degradation of the entire care process. As such, and in combination with the attitude of attentiveness, the triage officer needs to seek the responsiveness of the patient, which helps to address ethically relevant issues like respect for autonomy and the issue of informed consent, lack of communication, lack of privacy and psychological harm.
Framework of Interpersonal Relationships
Care practices always take place within a framework of interpersonal relationships, where the caregiver(s) and the care receiver are reciprocally involved in a dynamic interaction of giving and receiving care [41]. Reciprocity consists of verifying that the given care meets the patient's needs, thus avoiding the risk of paternalistic or inadequate care.
In his theoretical study, Gastmans points at the fact that the characteristics of relatedness and reciprocity should also be understood against the background of a very particular social context [41, 77]. Applied to ED triage, we can point at the way in which the reception of people is being organized and at the way in which people in need are being approached in their first contact with the ED staff. The way in which people are being received and taken care of when entering the ED, their contact with the triage officer, are important parts of the particular care process, because they are the first encounters between patients, their relatives, caregivers and the hospital, and often the starting point of an overall care process.
Institutional Framework
In general, care ethics is mainly considered as an ethics of individual relationships [39]. However, care practices should always be considered against a broader horizon of social practices as a whole. The crux of the matter is that the care ethics perspective looks at care in ethical terms; at the ethical meaning of care. If we want to do this properly, we always also have to look at the specific institutional context within which care is actually being provided. This context (for instance the specific hospital culture, and its ways of dealing (or not dealing) with ethical issues regarding care) can be obstructive or supportive to the kind of care that can be given. Without sufficient attention for these contextual determinants of care, the care ethics perspective can only provide ethical analyses of care that seem very guilt-inducing for the particular care providers.
Accordingly, a careful interpretation of ED triage makes clear that a relationship between care professionals and patients cannot be seen as isolated interactions. They are always situated in a broader care process, which is enacted in the teamwork of caregivers, being part of a particular health care institution, which may have (or may not have) a carefully developed policy on ED triage [41].
Moreover, the process and outcome of ethically sensitive decision-making processes in ED triage is influenced, not only by institutional factors, such as the presence of policies, but also by the ethical culture of the hospital as organization [78], as it manifests itself in the working relationships within the team and within the hospital, in the professional atmosphere, in hierarchical relationships, etc. For instance, ethically sensitive decision-making in ED triage implies that hospital management provides sufficient support for the ED staff, both with regard to training, for instance on communication skills and aggression management as well as with regard to feedback and psychological support.
Ethical problems in hospitals often occur in an atmosphere of powerlessness, (in)efficiency, problems of cost-effectiveness, pressure, (in)competence, scarcity of human and financial resources, etc. It is this institutional and professional atmosphere, which determines what ethical problems are being expressed and how they are being dealt with in the hospital. Hence the importance of developing ED triage as part of a hospital-wide strategy for fixing ED overcrowding [3]. Such a hospital-wide strategy requires cross-departmental and cross-role coordination at all times.
Summary
In this paper, we have identified the ethical dimensions of ED triage, which provide the moral framework for decisions made by triage officers. In order to carry out their task effectively, it is essential that hospitals engage in emergency department triage planning. Different from triage systems, that are exclusively clinical-based and narrowly focused on the ED, it is important to opt for an integrated clinically and ethically based form of triage planning, as seen from a comprehensive ethics perspective that incorporates both the above-described principles and care-oriented approach. Such a way of ED triage planning would incorporate the following characteristics.
(1)

From the complementary dialogue between the principle-based approach and the care-oriented approach, we can conclude that a clinically and ethically based ED triage process is not only based on a momentary decision made by one person. It also takes relevant ethical principles as respect for autonomy, nonmaleficence, beneficence, and justice into account, as well as the fact that triage is a part of dynamic care process incorporating the four dimensions of care.

(2)

Based on the essential importance of a supportive institutional framework, it is essential to opt for a hospital-wide strategy of triage planning with a broad involvement of relevant people. Hospital management, ED management and staff, triage officers, directors and staff of other departments are important stakeholders in the process [3, 10]. As triage involves significant moral implications, it is important to involve public representatives and ethics scholars in the development of institutional ethics policies on triage planning [10].

(3)

Just as triage itself is a dynamic process, and in itself part of the dynamic process of overall patient care, it is important to consider triage planning as a phenomenon that is susceptible to change. Hence, it is important to carry out regular reviews of the hospital's ED triage protocol, based on experiences of staff and patients, and on evolutions in care [10]. Proposed revisions of the protocol could then be reviewed and evaluated by multidisciplinary task forces, hospital ethics committees, or by organizations of emergency medicine and nursing professionals, according to its compliance with the comprehensive ethics perspective that incorporates both the above-described principles and care-oriented approach.

(4)

ED staff has to operate in highly stressful, ethically sensitive, and sometimes even traumatic circumstances. Providing sufficient support on educational (communication, stress and aggression management), psychological (feedback) and ethical level, is essential for realizing a clinical-ethical based process of triage planning. A good and supportive hospital culture is a crucial determinant for this.
As such, the various ethical aspects that are intrinsically related to ED triage, and which we have identified by our ethical analysis, can help to create a supportive clinical-ethical framework for ED triage.
Abbreviations
ACEM:

Australasian College for Emergency Medicine
ATS:

Australasian Triage Scale
CTAS:

Canadian Triage and Acuity Scale
ED:

Emergency Department
ESI:

Emergency Severity Index
LSI:

Life Saving Interventions
SALT:

Sort, Assess, Life-saving interventions, Treatment and/or transport
SARS:

Severe Acute Respiratory Syndrome
SORT:

Strategy for Off-Site Rapid Triage
START:

Simple Triage and Rapid Treatment
Declarations
Acknowledgements
The authors are grateful to Prof. Peter Campion (University of Hull, United Kingdom) for reviewing the paper from a medical perspective and offering assistance in language matters.
Authors' Affiliations
(1)
Department of General Practice & Emergency Medicine, Tribhuvan University Teaching Hospital, Kathmandu, Nepal
(2)
Centre for Biomedical Ethics and Law, Faculty of Medicine, Catholic University, Leuven, Belgium
Copyright
© Aacharya et al; licensee BioMed Central Ltd. 2011
This article is published under license to BioMed Central Ltd. This is an Open Access article distributed under the terms of the Creative Commons Attribution License (http://creativecommons.org/licenses/by/2.0), which permits unrestricted use, distribution, and reproduction in any medium, provided the original work is properly cited.